Get to know your VMMV staff & vehicles

In this section we introduce you to the people and armor of the Virginia Museum of Military Vehicles. We will chat with the VMMV staff, so that you can get to know the people who "keep 'em running" and work so hard behind the scenes. And also provide a behind-the-scenes look into the history of individual vehicles in the VMMV collection. In this, our 23rd newsletter, we will give you a behind-the-scenes peak at what it takes to put on our highly acclaimed Open House each year.
The day dawned warm as the sun rose over Aden field, dotted with dozens of armored vehicles. The staff and volunteers of VMMV gathered together and began formulating plans and discussing strategy. Is this the morning of the 2012 Open House? No, in fact it is the day after our incredible 2011 Open House…..planning for the Open House begins immediately following the preceding one.
Yes, it takes 364 days to bring our thousands of fans an incredible Open House. We work very hard to bring you a smooth-running show, it just doesn't happen overnight
A Hot Wash was held the week following our 2011 Open House as all VMMV crew discuss what went right and what we can improve upon for 2012. The first order of business is always a weather check for the week……what impact will it have on the return of our vehicles to their storage areas.
Heads are bent over pads of paper as notes are made on how the vehicles performed and whether or not any maintenance issues cropped up. Those vehicles in perfect health get batteries and are spun-up, turned around and driven to the Hangar or Pole Barn. Parking our vehicles is a very delicate process and may require 3-4 sets of eyes to ensure safety and a tight fit--in some cases we park the tanks with only one inch of space between them. Yes, our drivers and crew are that good!!!
Over the next week or so, Aden Field is slowly returned to its pastoral setting as the number of vehicles diminishes. There are always a couple of vehicles that have mechanical gremlins. Those are cataloged and then prioritized by Marc and Alan--VMMV's mechanical wizards. Our crew attacks the problems and finally the last vehicle is tucked away safe and sound.
Discussions over the next several months take place with NMAW officials, representatives of living history groups and a general plan for 2012 begins to take shape. In spring of this year, the logistics of taking care of 6000+ visitors hit high gear. Phone calls were made to local law enforcement, fire fighters, the food caterers, Cub Scouts, and the appropriate permits and paperwork were filed with government officials.
Approximately three months prior to Open House, a display and "runner" plan is outlined. VMMV staff and volunteers descend upon the sleeping armored monsters and perform basic preventive maintenance and turn the engines over to determine what might have deteriorated over the winter. A "fix-it" list is generated. This is a critical step because we must have time to order parts and repair vehicles for the Open House. Over the next month, needed major repairs--such as replacing a balky fuel pump, changing out an electrical harness, or fixing a bad starter--are accomplished.
Then with less than a month to go, VMMV crew go from vehicle to vehicle, checking the fluids levels--fuel, transmission, hydraulic, oil, brakes--and topping off when necessary. At this point, almost all vehicles purr like a kitten, but there are always a couple where a carb. might need adjusting, or bad gasoline drained. The tired arms of turning over the radial engines are a testament to the physical nature of keeping tanks running.
Two weeks out and a map begins to emerge. You didn't think we just parked our vehicles willy-nilly did you? That would make a Beltway traffic jam seem tame in comparison. No, we have to map out where our vehicles will park, where each group of living historians will be, and how much space to allocate for all the incredible displays. Truly a multi-dimensional Rubik's cube--except with 40 ton tanks.
"Here is what Aden Field looks like before the flurry of the 2012 Open House."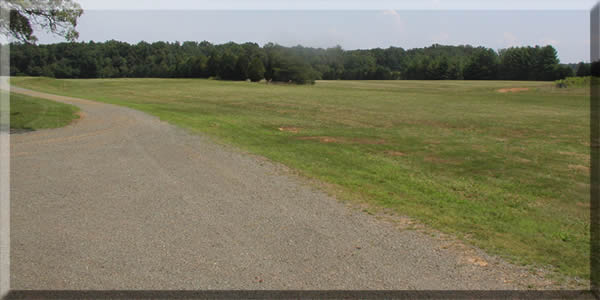 Now we are one week out and things are at maximum…..there is a continual flow of vehicles from storage. Generally the VMMV staff and volunteers are working in teams of two…driver and ground guide, necessary to safely extract a large tank from a parking spot barely larger than the vehicle itself.
The first stop for the vehicle is the wash rack. VMMV is very proud of the outstanding condition of our vehicles and we want them to sparkle for all our fans. So one lucky person dons safety gear along with a raincoat and takes the pressure washer to the dirt and grime that has built up over the preceding months--what emerges is a beautifully clean tank.
"After two weeks of frenzied activity, Aden Field fills with armored vehicles and living historians."
If the vehicle is going to be used for VIP or demonstration purposes during the Open House, we will add fuel at this time. Another last minute check of the oil and coolant and the vehicle is driven off to its parking space.
Mid-week the air is filled with not only the roar of the tank engines, but sound checks, as VMMV's master of communications begins to test the microphones and speaker systems. Special care is taken to ensure the cables and cords are not damaged by a tank track.
Suddenly it is Friday, the day before the 2012 Open House. Thanks to great planning and the skill of VMMV's mechanics, we are ahead of schedule and all the vehicles are in their assigned spots. But that doesn't mean the work is over.
The most important task on Friday is to supervise the delivery and placement of the Porta-Pottys. Talk about a critical planning element!!! Next, the wonderful Church group arrives with its reefer truck to begin setting up the food area.
Living historians also trickle in on Friday. They touch base with VMMV and are given their assigned history area. Folks with large displays and exhibits arrive, getting their tables and wall boards in place. Finally, about 5 pm, a calm peace descends….everything is done. For Friday.
Early on Saturday morning, long before the dew is off the grass, VMMV staff and volunteers arrive to carry out last-minute preparations. We have antennas and machine guns to mount on the vehicles, along with easels, displaying background information on each vehicle.
A driver's meeting is then called before the public arrives to go over last-minute schedule changes. Mechanics listen intently so they know where and when to be, to ensure optimum safety for the Open House and all our fans. Then, the magic moment arrives….the first visitor arrives and VMMV's 2012 Open House is now on!!!! The rest is history, captured by your memories, pictures and video. And in two days, VMMV begins the planning process all over again.
Open House Thank You
VMMV can't possibly thank all the living historians individually, there simply are too many of these incredible men and women who take time from their lives and family to enrich our Open House with their displays, equipment and passion for the units they honor. The living historians come from all walks of life and represent a multitude of units and historical era's. They truly put a "face on history," so from all the staff and volunteers at VMMV, we Thank You!!! Looking forward to renewing our partnership in 2013.
We want to thank an unsung hero of the Open House. You may have seen him with a line of VMMV crew and living historians lined up at his booth. Or saw the incredible Chili Cheese Dogs he gives out to our crew and re-enactors. We are talking about Chris M. and his posse of chefs from the Manassas and Woodbridge Hard Times Cafés and Cues. Since 2006, when Chris started donating his food and time in support of VMMV's Open House, he estimates the following has been consumed by hungry Open House workers:
2,700 hot dogs
90 pounds of cheddar cheese
240 gallons of lemonade
60 gallons of chili
24 quarts of onions
325 man-hours
Wow, truly enough food to feed a division of hungry tankers!!!
Remember, the Manassas and Woodbridge Hard Times Cafés and Cues are the official Chili places and Pool Halls of VMMV. So next time you are hungry in Manassas or Woodbridge, stop by the Hard Times Café and Cue and thank Chris for all he does to support VMMV.